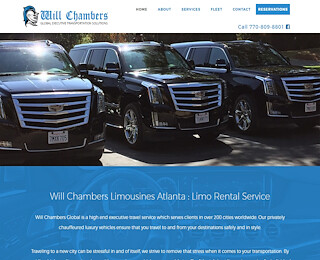 Smooth Ride with Limo Service in Atlanta Airport
Most people have seen the image of the glamorous Hollywood star emerging from her limousine onto the red carpet amidst the flash of cameras and an adoring crowd. Compare that image to the exhausted traveler arriving at Hartsfield–Jackson Atlanta International Airport (ATL) struggling to get her luggage off the carousel. She makes her way to the rental car kiosk only to find that the comfortable four-door sedan that she had reserved was given to another customer, leaving our weary passenger the choice of a sub-compact or to wait at ATL for the next available car.
Does it have to be this way? The answer for a savvy traveler is "No!" because our wise visitor to Atlanta made a reservation with Will Chambers Global Executive Transportation Solutions and has a limo waiting as he exits the airport. There may not be any flashing cameras or a red carpet, but our passenger will certainly feel like a star as he is whisked away in the limo to his destination.
Why Pay More for a Limo?
Our little story goes to show the advantages of limo service in Atlanta airport over rental cars:
Convenience – the driver of the chauffeur may be able to enter the baggage claim area with your name printed on a placard to get your attention. He will assist you with your baggage and he likely will be given more leeway at the curb by security than other drivers. There is no need to take a shuttle bus to locate your rental car and no need to worry about returning it when you return to the airport.
Safety – do you know your way around the Atlanta area? The danger of making a wrong turn into a high crime area cannot be underestimated. Trained drivers with Will Chambers know the neighborhood to get you to your destination safely.
Avoid bad consequences – why will parents shell out $200 per hour or more dollars for an overnight limo rental to take their teenage children and their friends to a school prom? The answer here is obvious when the cost of a limo is compared to a wrecked car or a tragic loss where alcohol is involved. Likewise, perhaps you spent a few hours in the airport bar and had some wine on your flight. Do you really want to spend your first night as a guest of the local police facing an expensive DUI charge? The answer, again, is obvious.
Make that Reservation with Limo service in Atlanta airport
Will Chambers Global Executive Transportation Solutions is more than a driver in a fancy vehicle. They are located at 200 airports across the globe and offer a top line fleet of SUVs, sedans, and vans to choose from. The drivers are professionally trained, licensed and insured and you can be sure they know the territory of your destination.
So, don't be like our poor traveler stuck at the Atlanta airport or driving in a cramped subcompact. Call Will Chambers at 770-809-8801 or create your own account online to make a reservation or get a quote.
Limo Service Atlanta Airport